Are you interested in making your own leather bag together with friends or family? Join us for a private workshops during which we will introduce you to the Nitmoi bag. You will understand more about vegetable-tanned leather, our design approach and the leather techniques needed to create the bag. After an inspiring and fun workshop, you can proudly call yourself the owner of a self-made sustainable leather bag.

You can already book a private workshop with 3 persons, for a special occasion, or with special friends or relative. Contact us at support@nitmoi.nl for questions or requests.
What do I make?

A sustainable leather bag made from premium Italian vegetable-tanned leather that comes with a nylon strap made from ECONYL® regenerated nylon.

You can choose from 2 models;
Ava - cross body bagsize: 25x16x5 cm (bxhxd); 2 compartments
or
Tate - hand bag;
size: 25x13x4 cm (bxhxd); 2 compartments

Would you like to make different Nitmoi product? Contact us at support@nitmoi.nl and will we look into the options.
What to expect?

In the approximately three-hour private workshop, you'll get acquainted with creating a Nitmoi bag.

In this workshop, cutting and stitching won't be covered, as you'll be creating the bag using the Nitmoi folding technique! 

Johannes will introduce you to vegetable-tanned leather, which forms the foundation of the bags. He'll explain how the leather is cut and what the Nitmoi folding technique looks like. Next, you'll select your preferred leather color and learn how to treat it. Additionally, you'll address leather edge finishing, folding, and attaching your chosen hardware. Then, you'll complete the bag with the strap of your choice.

After an inspiring workshop, you can proudly call yourself the owner of a self-made sustainable leather Nitmoi bag.
Practical Information


Booking
There is a min. of 2 and max. of 4 participants for this workshop. Nitmoi has the right to move or cancel the workshop, when the minimum number of participants is not reached. In case of cancellation you will receive your money back.

Contact
For questions and/or your requests, you can contact us at support@nitmoi.nl.

Location
The workshop will take place in the Nitmoi studio in Utrecht, at the Nijverheidsweg 6, Utrecht. The Studio is easy to reach, with free parking and close to Utrecht Central Station & Utrecht Zijlen Station. View Google Maps.


Cancellation


Algemene Voorwaarde / annuleren
View full details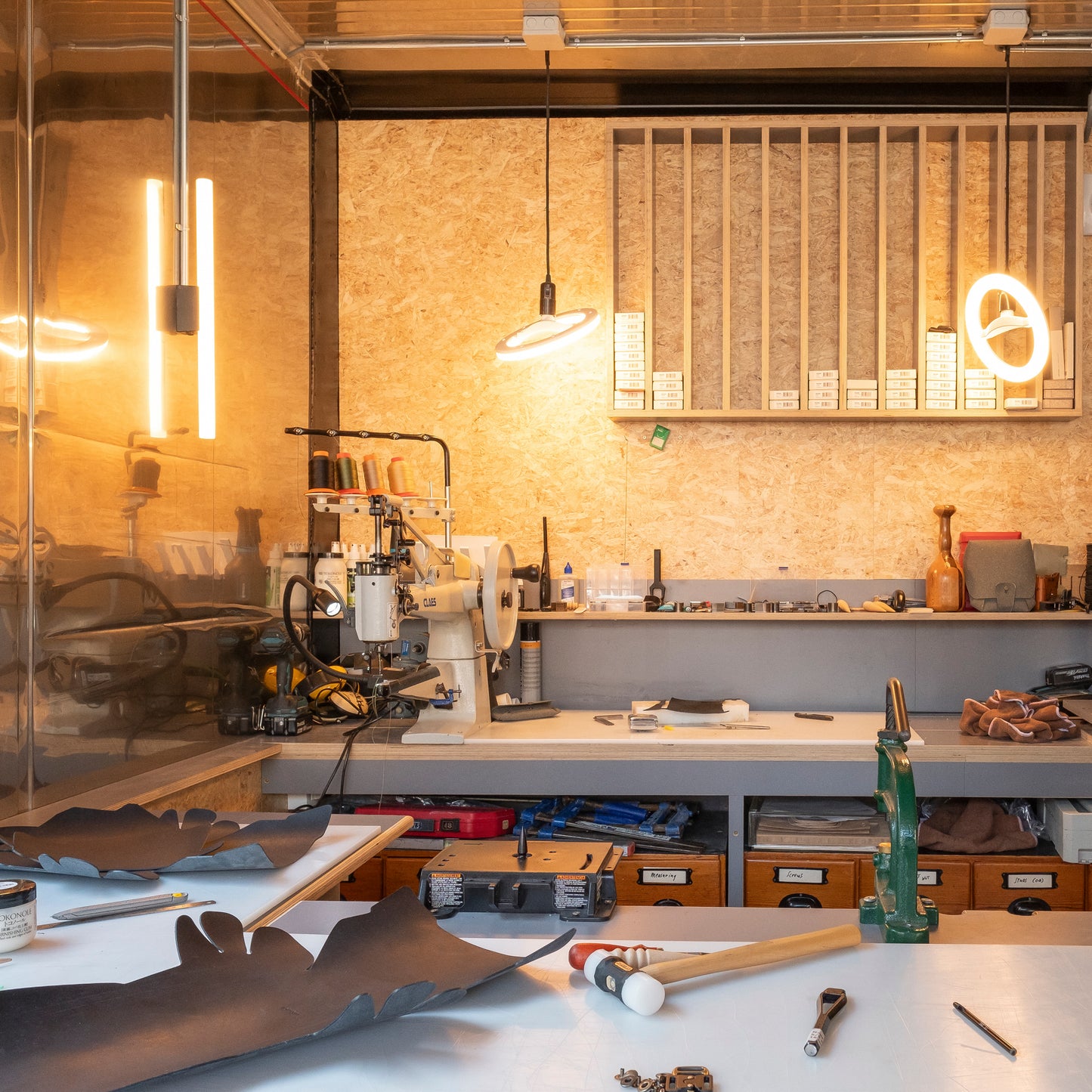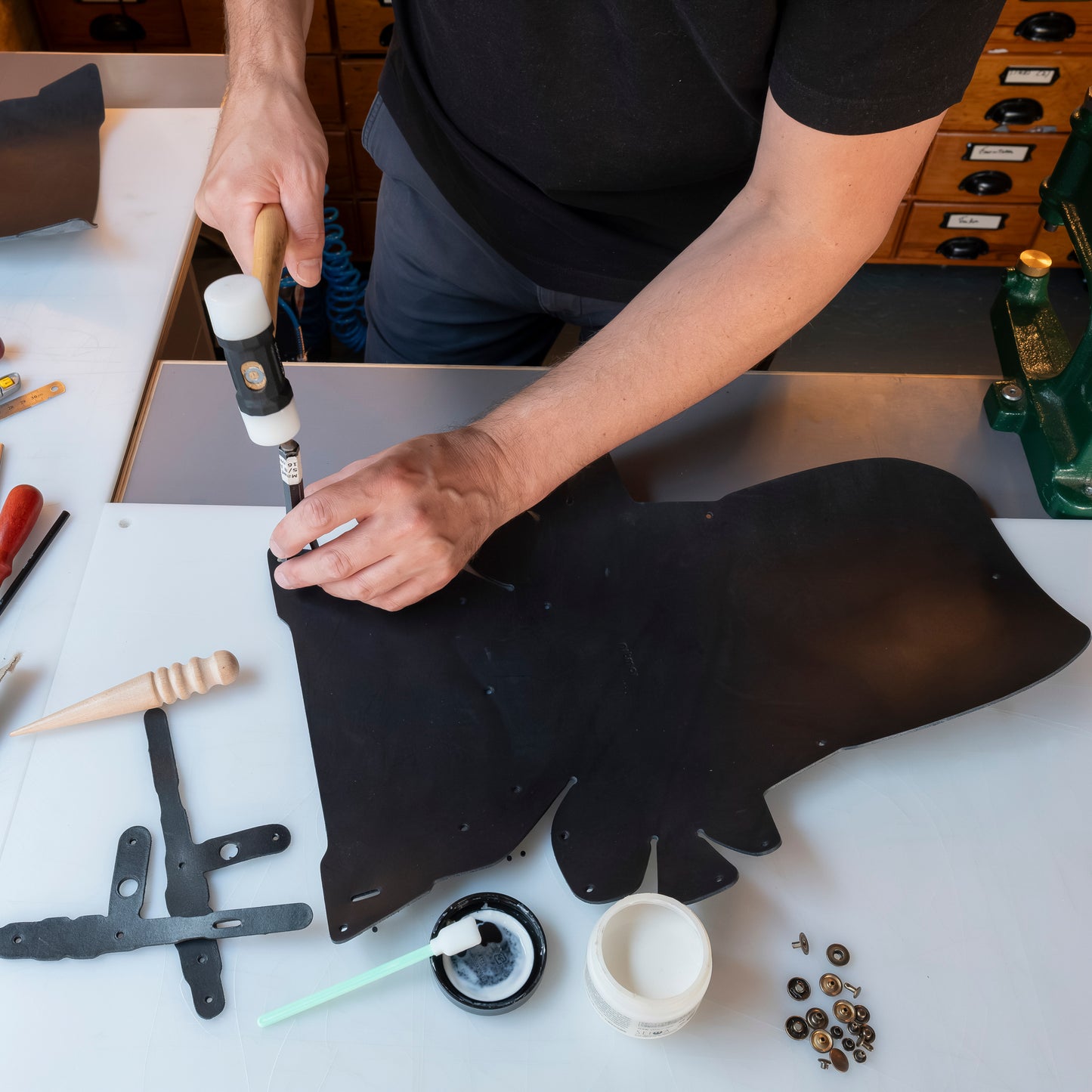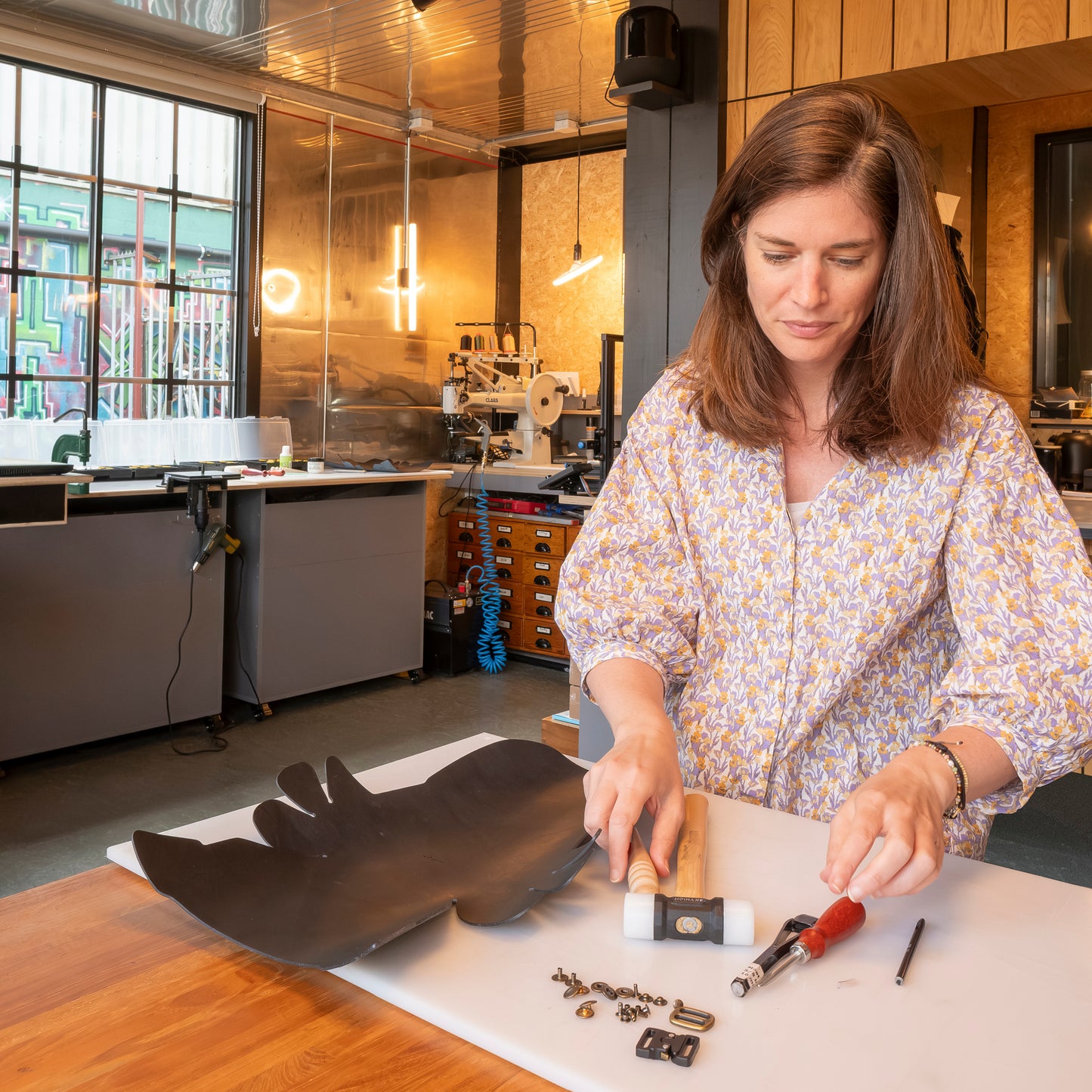 make it yourself
During the Nitmoi workshops you will make the bag yourself!
Select your favorite colour leather and hardware, and with the Nitmoi's signature folding technique, you will make an unique bag in your own style.
1. Style

It's up to you! Choose your favorite colour leather, nylon strap and metal parts, to ensure your bag becomes uniquely yours.

2. Prepare

Step-by-step you prepare the different parts of the bag. Like punching holes, edge finishing, sizing the strap and nurturing the leather.

3. Make

This is where it all comes together. The bag is folded and put together using rivets, finished by adding the strap. Walk out with your own Nitmoi bag!
Let us know your whishes!
Would like to book a private workshops with a small group? Perhaps for a special occasion. Do you have any special wishes?

Let us know and we will get back to you!
Requests or questions? Contact us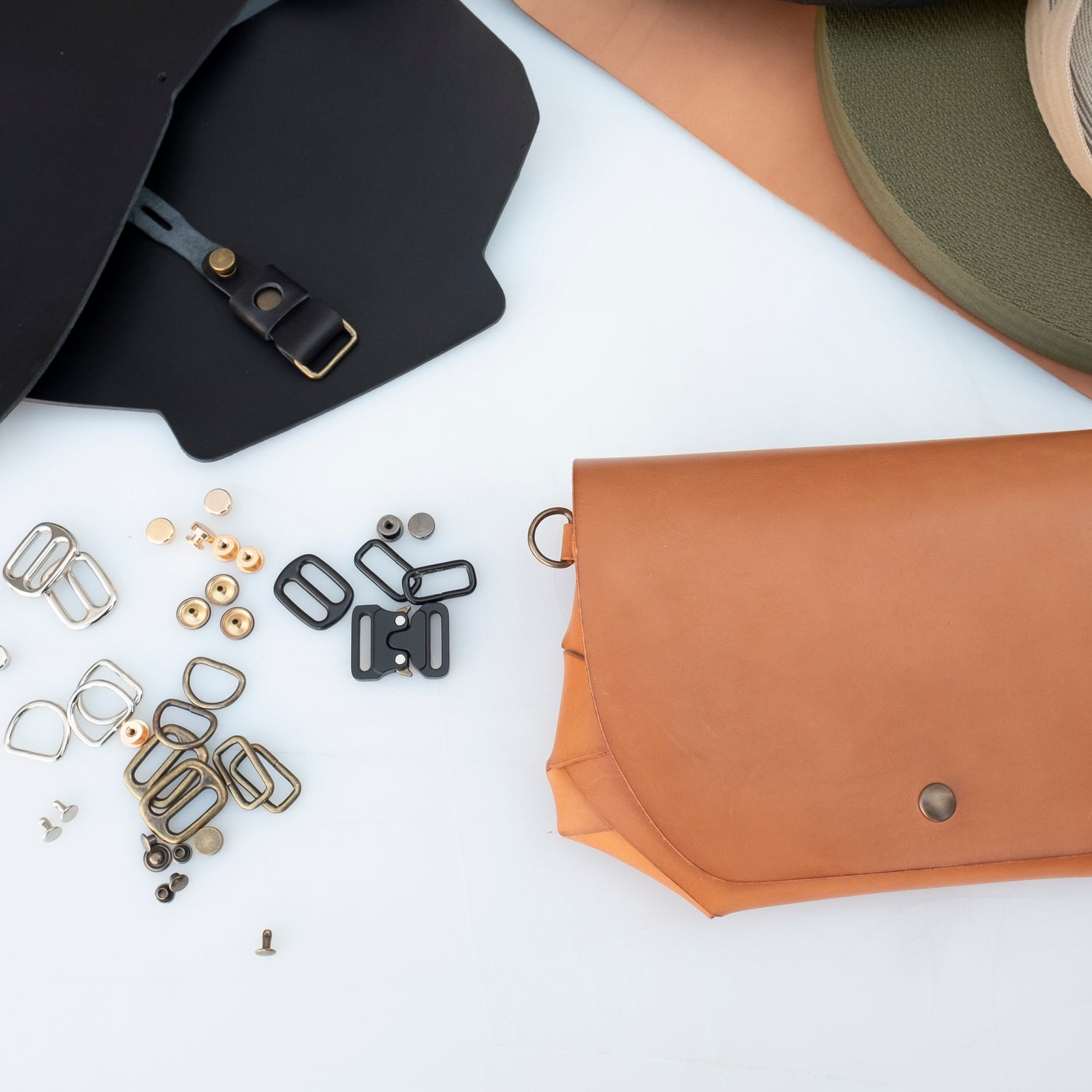 A bag to enjoy for a long time
The Nitmoi bags have been designed to last a long time. Due to its unique folding technique and its construction from a single-piece high quality vegetable-tanned leather.Vegetable-tanned leather has been treated and coloured only with natural tannins, creating a eco-friendly leather without any chemicals. It absorbs traces of life, maturing beautifully over time, showing a characteristic and unique patina.
More about Veg-Tan Leather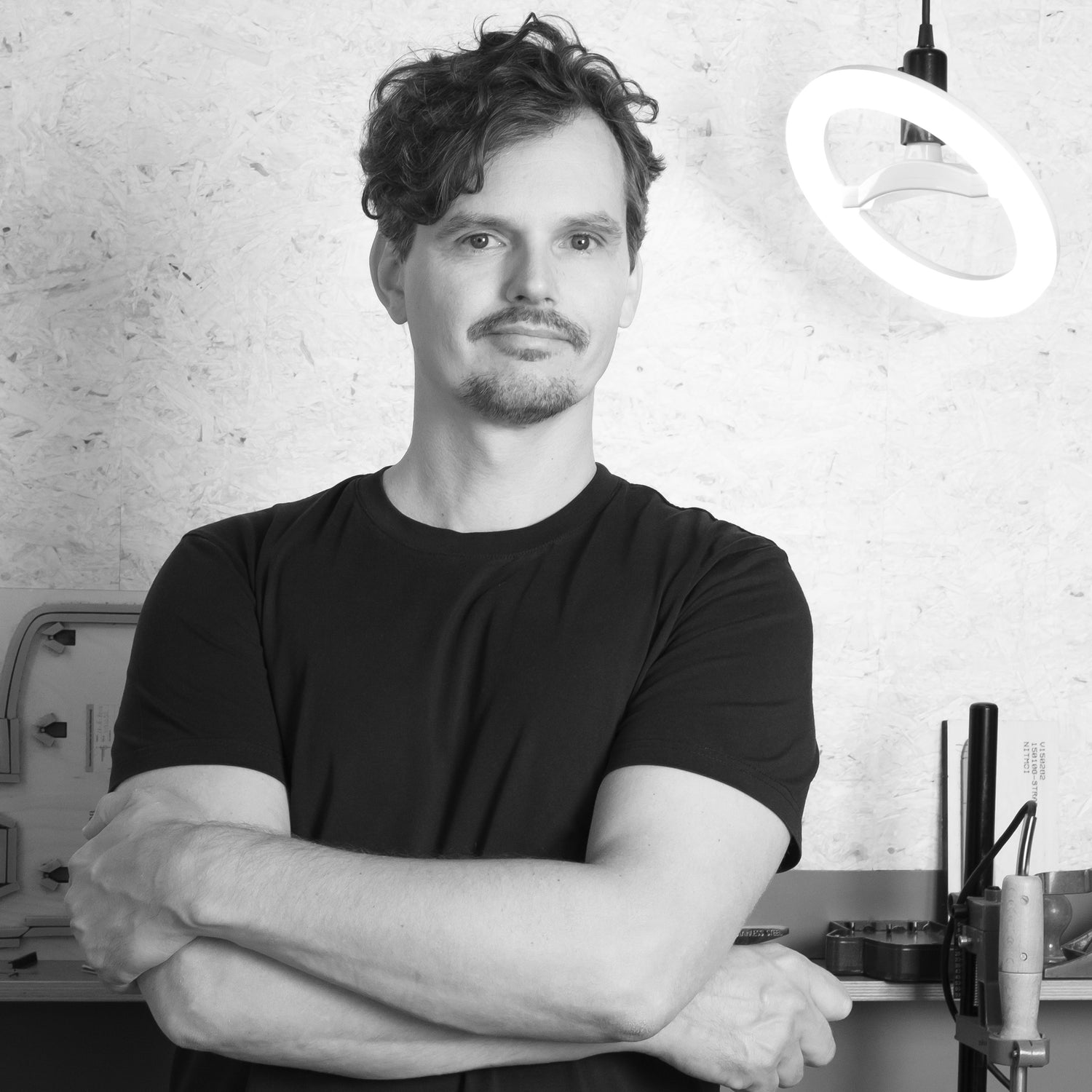 The guidance you need
Whether your are new or more experienced when it comes to making a leather bag, you can do it. Johannes is the owner and creator of Nitmoi, and he will guide your through the entire process. Depending on your experience, he will provide you with the right amount of information to keep things interesting and fun!
More about Nitmoi
I don't have any experience in making a leather bag, can I book a private workshop?
Yes, you can certainly book a workshop. You don't need any leather working experience, to be able to leave the workshop with a beautiful bag!

What's included in a private workshops?
The workshop includes all the materials and tools to be able to make a Nitmoi bag. Plus the workshop also includes coffee, tea, drinks and some snacks!
I would like to book a workshop for a special occasion, is this possible?
Yes, of course! Are you looking for a nice evening with a couple of friends, maybe a bachelorette or other nice occasion? We can facilitate most request, and make it a nice experience. Questions or requests? Contact us at support@nitmoi.nl.
Is it possible to make something else, besides a Nitmoi bag?
Let us know what other Nitmoi product you would like to make, we will get back to you with the options.
About Nitmoi bags
The design is unique and the quality is excellent!

I saw the amazing bag at a magical market in Amsterdam and immediately fell in love. The design is unique and the quality is excellent! I am so happy and know that this bag will accompany me for many, many years. Thank you Johannes for the nice conversation and your patience in making my decision. ;)

Melanie

Stylish yet practical bag

I am the proud owner of a beautiful NITMOI ladies handbag! NITMOI products are stylish yet practical. Well-thought-out design and implementation, but also the origin of the materials and sustainability have been carefully considered.

Wilma

A huge fan of Nitmoi

I recently bought the Crossbody bag to carry a few essentials and am very happy with it! It is just the right size and it looks very elegant and knowing that the leather is made in a natural way makes me feel that I have purchased a good product that harms the world as little as possible.

Carolien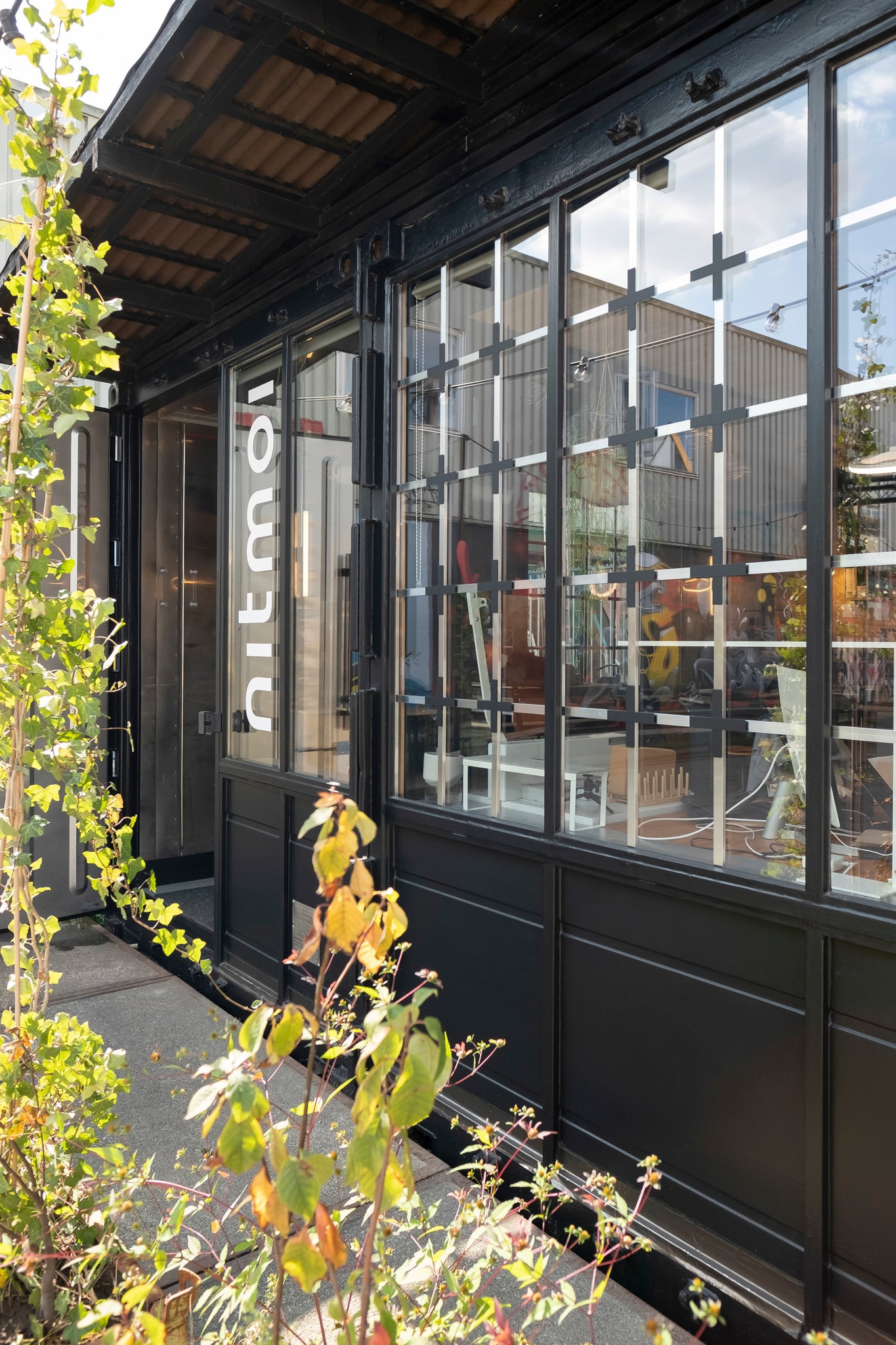 Nitmoi Studio
Nijverheidsweg 6, Utrecht

The workshops take place in the Nitmoi Studio in Utrecht. Located in a creative area next to the Havenloods, and close to NAR and de Nijverheid.
The Nitmoi studio has been circulair build out of shipping containers and provides an inspirational setting for the workshops.
Easy to reach, free parking and close to Utrecht Central Station & Utrecht Zijlen Station.
Google Maps